The professionalism of the bar in your home: this is possible with our range of Family Espresso professional machines. Choose the machine most suited to your needs.
The forerunner model of the Family Espresso range in three different versions: Alex Leva, Alex Duetto or  Alex PID.
COFFEE AT YOURS LIKE AT THE BAR
The Vivi range Family Espresso machine is compact and conceived specifically for domestic use.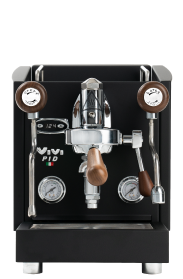 Vivi PID is a reliable machine for those you want to make a perfect espresso.
With their distinctive design the Valexia models bring together elegance and professionalism to create an unique style.